Experience a new world of food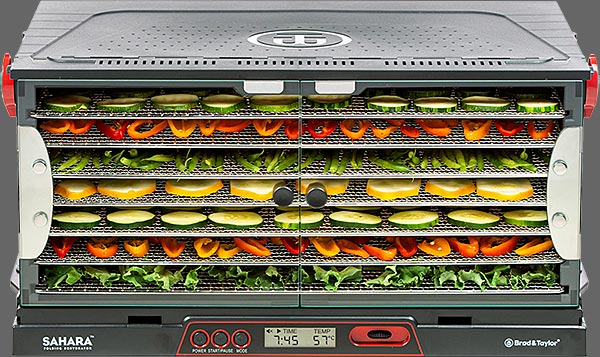 Intensive
Food dehydration brings a whole new taste experience. Watermelon becomes magical. Mushrooms to pure umami. Your taste buds will thank you forever.
Nutritious
Snacks without additives. Fruit leather filled with vitamins and fiber. Protein rich jerky. Carry it all in your bag or store it safely for months.
Simply
Cut into slices and dry. Nothing could be simpler. Enjoy the fresh deliciousness of a summer farmer's market all year round.
Timer & Temperature
The dehydrator has 2 sequential timers that can be designed for the following lengths:
15 minutes – 99 hours (Time 1)
15 minutes – 99 hours (Time 2)
You can select the "Fan" mode or heat to a temperature between 30-74 °C.
Technical information:
Folded (LxWxH): 56 x 31 x 9.5cm
Open (LxWxH): 56 x 36.5 x 28cm
Weight: 5.8kg (without slide-in modules)
Stainless steel drawer weight: 2.2 kg
EU version: 220-240V~ 50Hz (690-820W
Housing material: ABS plastic (BPA Free)
Material of slide-in units: stainless steel or plastic
guarantee
Scope of delivery
1 Dehydrator
1 Power cable
1 removable drip tray
1 pocket with zipper for the inserts
7 shelves made of stainless steel or plastic
2 spare air filters
1 instruction manual (English, French, German)
1 Setup guide